[English translation below]
Goseanna! Am 17. November feiern wir das bekannteste Sauerbier der Welt: die Gose! Am 17. November feiern wir den "INTERNATIONAL HAPPY GOSE DAY"!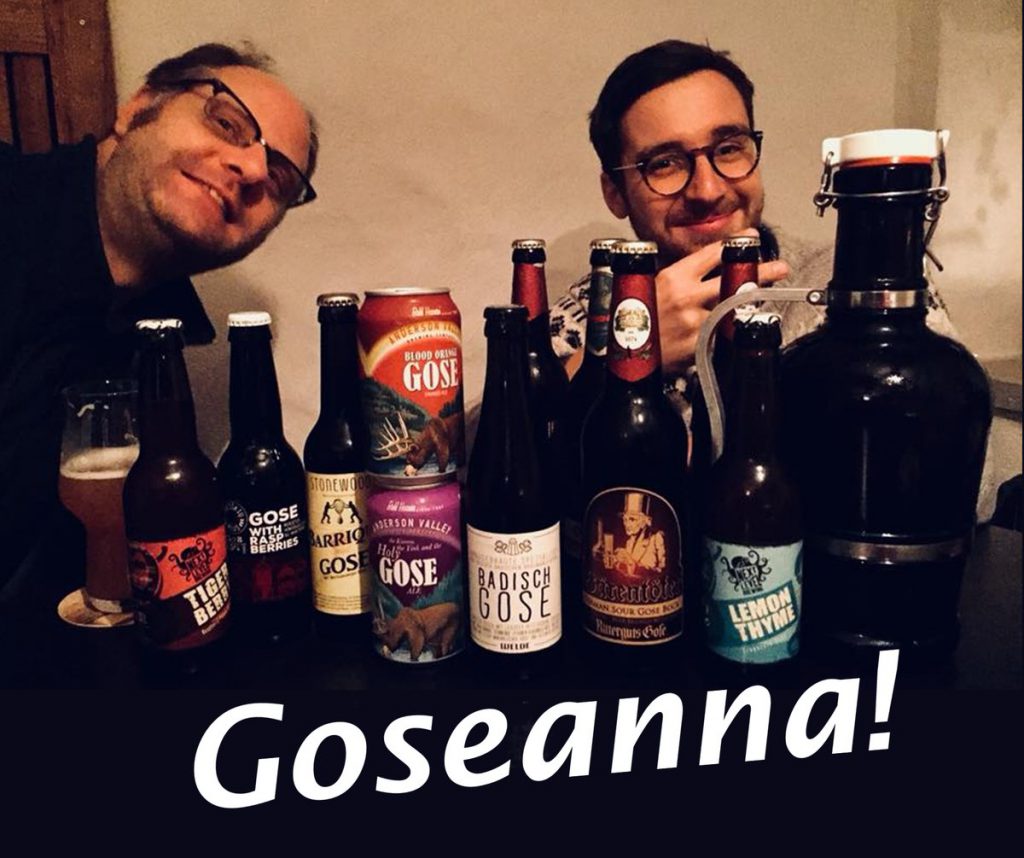 Der internationale #HappyGoseDay wurde in der Gosestadt Leipzig erfunden und wird dort auch am intensivsten gefeiert. Der Tag dient dazu, alle Sauerbier-Enthusiasten weltweit zu vereinen. Immer am 17. November eines Jahres erheben Gosefans überall auf der Welt die Gläser, prosten sich kollektiv zu und rufen GOSEANNA! Der Bierstil Gose ist inzwischen so lebendig und vielfältig (Ratebeer.com und Untappd listen aktuell 2200 verschiedene Gosen in ihren Datenbanken), dass er für eine zweite Craftbeer-Welle steht. Diese spricht immer zum #HappyGoseDay mit vereinter Stimme.
Um am Happy Gose Day teilzunehmen, teilt eure Fotos, Videos, Biertests, Rezepte, Blog Posts mit der Welt auf Twitter, Facebook, YouTube, WordPress, RateBeer, Foursquare, Yelp, Untappd, Tinder, TikTok und was euch noch so alles einfällt. Dazu einfach den Hashtag #HappyGoseDay verwenden und so sehen, was weltweit an dem Tag passiert. Noch besser ist es natürlich, sich am Happy Gose Tag zusammenzusetzen oder kleine Gose-Events im real life zu organisieren. Trefft euch in den Bars, Pubs oder Läden, die Gose führen und lasst euch ein saures Bier schmecken. (Haha! Der Text ist aus einer anderen Zeit.)
Zur Geburtsstunde des #HappyGoseDay könnt ihr hier etwas nachlesen. Wissenswertes zur Geschichte der Gose gibt's hier  oder hier. Unsere Top 10 der Gose-Locations in Leipzig haben wir hier für euch zusammengestellt.
Der "International Happy Gose Day" auf FACEBOOK
English translation:
Cheers beer enthusiasts! On November the 17th we are celebrating one of the most popular sour beers in the world: the Gose. On November the 17th it's "INTERNATIONAL HAPPY GOSE DAY"
The City of Gose (i.e. Leipzig, not to be confused with the City of God) is the birthplace of the international #HappyGoseDay. Every year Leipzigers celebrate #HappyGoseDay with an enthusiasm seldom seen elsewhere. On this magical day, it is forbidden to say "Cheers", "Prost", "Chin Chin" or "Kampai". "Goseanna!" is the only toast in town! Nowadays Gose culture is so vital and diverse, it represents the second craft beer wave. Websites like ratebeer.com or untappd list more than 2200 different Gose in their databases.
To take part in #HappyGoseDay share your images, videos, Gose reviews, recipes and blog posts with the world. Spread it on Twitter, Facebook, YouTube, WordPress, RateBeer, Foursquare, Yelp, Untappd, Tinder or wherever else you like. Use the hashtag #HappyGoseDay to see what Gose enthusiasts all around the globe do. And even better: gather round with friends in a bar, a pup or a craft beer location and enjoy a cool and sour potion Gose.
Interesting information about the history of Gose you can find here [english] or here [german] or here [german]. You ask yourself: What gose in Leipzig? Here are our favourite gose pubs in town.
---